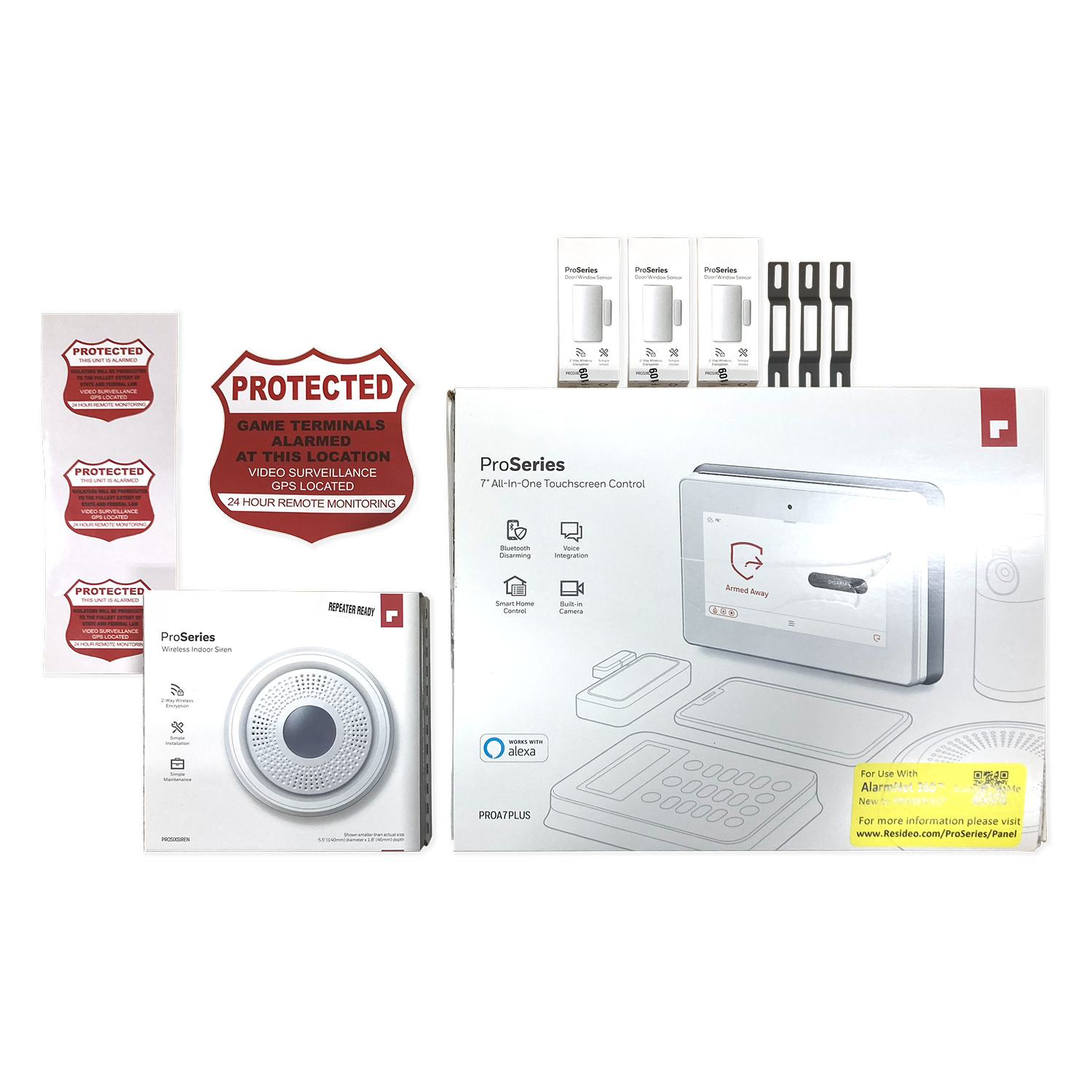 ProSeries Alarm Set
The ProSeries Alarm Set Security System, presented by Miele Manufacturing, protects your Skill Games and TRTs. This system features a high-quality ProSeries Alarm System. The system uses an app that notifies you the second your terminal is breached and dispatches the police to your location. One of the many benefits of the app is the ability for you to know when your employees access your terminals.
Security System Starter Bundle
Included in the ProSeries Alarm Set
Security System Set

Included in the alarm set:

ProSeries All in One 7" Touch Screen Control Module
LTE Communications Module
Three sets of ProSeries Wireless Door/Window Sensors with Mounting Brackets
ProSeries Wireless Indoor Siren
Machine and Location Alarm Decals

Mounted Security Screen

The ProSeries 7 All in One Touchscreen Panel is slim and non-Intrusive. This touchscreen recognizes that a security system is no longer something you must hide and tuck away. With its tablet-like profile, this panel was made and built with the modern business owner in mind.

Optional Add-on: Security Door/Window Sensor

With a range up to 300 feet and 128-bit AES encryption, the Two-Way Mini Wireless Window and Door Sensor provides a high level of security to the furthest areas of your customers' businesses and now comes in a mini size for easier installation.

Suggested for Skill Games

Optional Add-on: Security Shock Sensor

The ProSeries Shock Sensor Shock Sensor is designed to mount directly on the glass surface and offers excellent protection for all glass types—including plate, tempered, laminated and wired. The versatile detector provides outstanding false alarm immunity.
Set Your Bill Acceptors to HIGH Security